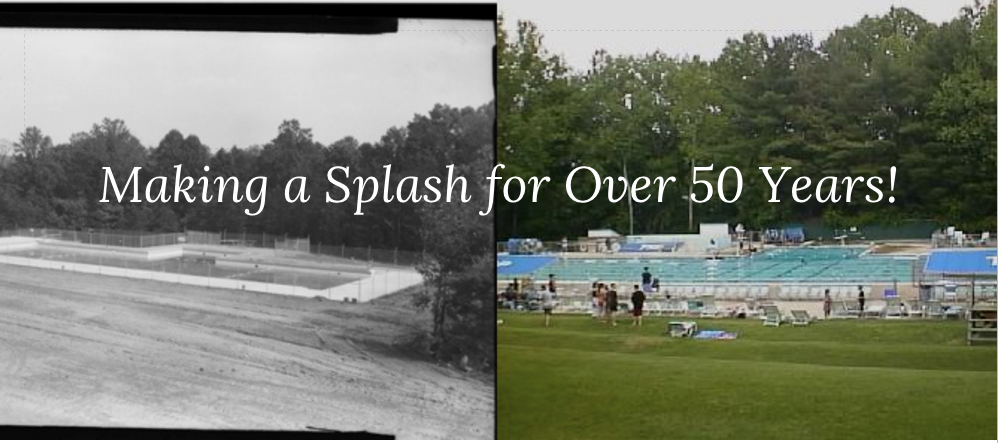 Twinbrook Swimming Pool
Making a SPLASH for over 60 years!
By Rob Perks, TSP member since 2001.
Let's back float to 1955…
In March of that year, Elvis Presley makes his first television appearance on The Ed Sullivan show. A month later, Ray Kroc starts America's first fast food chain: McDonalds. The Disneyland theme park opens its gates in July. And near the end of that summer, Twinbrook residents flock to their new neighborhood pool.
The world has changed in unimaginable ways over the past five decades, but it is comforting to know that the Twinbrook Swimming Pool is still the backyard oasis that it was always meant to be.
"We're lucky to have a crown jewel in our neighborhood that still shines brighter than any diamond," says Brooke Robbins, a member of the pool, and its unofficial historian.
An Olympian Task
The Twinbrook neighborhood is a quaint collection of 1950s Cape Cods, largely nestled in a triangular area bordered by Rockville Pike, Veirs Mill Road and Twinbrook Parkway. The pool, tucked behind a row of houses on Atlantic Avenue, was one of the very first in Montgomery County.
What was planned as "an adequate pool to meet the needs of the community," as detailed in early records, developed into a project of truly Olympic dimensions. The pool, measuring 165 feet long by 52 feet wide (plus a diving well and oversized baby pool) and with a 300,000 gallon capacity, still ranks among the largest privately-owned pools in the region.
"It was a unanimous decision," states a document from the early days, "that since the pool will be a long-term community asset, enjoyed by our children as they grow older, it would be best to start with the maximum pool area and add frills later on as membership grows."
A long-term asset indeed: while nearly two dozen community pools were scattered throughout Montgomery County in the mid-1950s, most have long since dried up due to waning support. But Twinbrook's pool still survives and continues to thrive.
That is because, over the generations, the pool has always been about more than swimming. What began as a humble watering hole to stave off Washington's hot air—weather-wise, that is—soon began to nourish the roots of the community.
For the first few decades, with the baby boom generation in full swing, the pool overflowed with children. Teens clustered around the snack bar, preened and strutted along the pool deck, and on weekend nights enjoyed sock hops on the roof of the pool house. Every spring, for a time, local women held fashion shows along the pool deck. One of the more popular and unique pasttimes involved square dancing in the shallow end.
And, as always, there was the swim team, dubbed the Ducks, which still keeps kids of all ages (and their parents) up to their gills in a healthy activity the whole family can enjoy.
Can you dig it?
To many local residents the pool is a hidden treasure, buried in the heart of their community. As with all buried treasure, much digging was required before residents could reap the pool's rewards—literally.
In a classic case of American "can-do-ism," a handful of residents in this blue-collar neighborhood—populated mostly by World War II veterans and their young families—banded together to carve the pool out of a wooded hillside. Each back-breaking scoop of dirt shoveled by those pool pioneers eventually delivered a gift to the neighborhood that keeps on giving.
"There were a handful of us who dug it," recalls Russell Stearns, a retired aircraft design engineer. "I bet we produced enough sweat to fill a pool."
About 30 people did most of the work, so motivating the volunteers required persistence and persuasion. "Sure the weather is hot. Just ask the small group of people who have been working night after night, weekend after weekend—they know how hot it is," read literature distributed around the neighborhood. "Can you really enjoy swimming off the sweat of your neighbor's brow?" (Talk about turning up the heat!)
So many gave so much to make the dream of a neighborhood pool a reality, it would be impossible to do justice to the efforts of them all. A few, however, deserve special recognition.
Leighton Dudley, then-President of the Twinbrook Citizens Association (TCA), is credited with getting the pool project underway by setting up committees to handle accounting, engineering and marketing. Responsibility for overseeing construction rested on the shoulders of Gordon Rudd, a TCA member and civil engineer.
"He wielded a mean shovel when the need arose," reported one of the earliest pool newsletters. Another person who played a big part in the project was John Eckhardt, the first chairman of the pool's Board of Directors, who reportedly spent every day at the pool site until it was completed.
Of course, their labor of love wouldn't have been possible if not for the generosity of Catholic Archbishop Patrick A. O'Boyle. He authorized the sale of the 5.6-acre Church-owned property for $10 to "life members" (or certificate holders) of the Twinbrook Swimming Pool Corporation.
​Pool reflections
Houston Hancock, a local artist, started swimming at Twinbrook Pool the year after it opened. Of his many fond memories, he recalls the state-of-the-art aluminum spring board high above the diving well. One of the early masters of the board, according to Mr. Hancock, was a lifeguard named Dave Fetyko.
"Dave was a marvelous diver who set the standard for what a 12-year old could attempt on the high dive," Mr. Hancock marvels, even after all these years. Fetyko may have been one of the best divers but, like gunfighters in the Old West, challengers were never in short supply. "The clown diving was the craziest," Mr. Hancock recounts, "with seat-drop one-and-a-halfs, full one-and-a-half gainers with a half-twist expertly executed."
Some 50 years later, the daily ritual of diving board one-upmanship continues. The tricks are mostly the same—only the young tricksters have changed.
Mr. Stearns, one of the shovel brigade and a self-professed pool member "before the pool ever was," says it wasn't just the neighborhood children who enjoyed the pool. His wife, Marilyn, was an ardent pool booster because swimming was—and remains—her favorite hobby. "She'll be swimming at Twinbrook until she's 120 years old at least," he chuckles.
​Refreshing the community
The pool's park-like environs, surrounded by green space and shrouded by trees, make this cool suburban paradise a welcome escape from lazy summer days. More than just a haven for Twinbrook's residents, the pool is also a gathering place where neighbors can meet new friends, share local gossip, celebrate family gatherings—while the kids frolic in a safe setting.
With membership at nearly 700 in its heyday, the waiting list to join the pool used to be as legendary as the daily tussle for a parking spot. Current membership is less than half that number. Even though it's no longer the "social mecca" that old-time members may recall, the pool is still a very social place.
Patty Etzel Timm, who grew up in Twinbrook with her seven siblings, can barely remember a time when the pool wasn't the center of her summer universe. "It seems like I learned to swim there before I learned to walk," she says.
Like many large families, growing along with the young neighborhood, vacations were a luxury, which made the pool a mainstay of Patty's childhood. Now her two daughters swim for the team, her husband, Joe, spends much of his spare time on pool maintenance, and Patty organizes various pool fundraisers. "My family still lives at the pool," she muses.
Endless summer…
Without a doubt this "little patch of Heaven," as one member described the pool, still entertains all summer long with raft parties, pig roasts, carnival days, movie nights, volley ball games, birthday parties—and all manner of just plain fun in the sun.
The pool's real value goes deeper than that, of course. Throughout Twinbrook pool's storied history, its family-friendly atmosphere has fostered a feeling of belonging to the neighborhood, not just living in one.
"The Twinbrook Swimming Pool is an important asset with a long history of serving the local community," says former Rockville Mayor Larry Giamo. "Most importantly, it helps to bring people together in what is one of Rockville¿s most diverse neighborhoods."
Now that this hidden gem is no longer a secret, why not dive in and join the fun this summer? As any Twinbrook pool member would attest: "Come on in, the water's fine."
---
The author wishes to thank Brooke Robbins for contributing to this article and Russell Stearns for providing a wealth of historical documents.