Shout out to our swimmers who were mentioned in the Week 1 edition of Reach for the Wall, Dan Grammer and Aviva Peck!
(SCROLL DOWN FOR DIVISION O!)
---
Swim Team | Pre-Team | Swimtopia
---
Our goal is to provide an opportunity for boys and girls to have fun and to build self-confidence, endurance, self-discipline, and good sportsmanship through competitive swimming.
CLICK HERE FOR SWIM TEAM CALENDAR AND REGISTRATION!
---
Twinbrook Ducks Swim Team
A REPS:
Colleen Reed & Jamie Pickell
B REP:
Jennifer Lyons
Criteria for Swim Team:
Must be a member of the Twinbrook Swimming Pool
Must be able to swim one length of the pool with a reasonable stroke (upon coaches' approval)
Must fill out required forms
Must read and sign the "Participant" form
Swim Team and PreTeam fees (per family) are $85 for one swimmer, $150 for two swimmers, and $200 for three swimmers.
"A" Meets:
All A-meets are on Saturdays unless otherwise noted.
The five A meets on weekend mornings are competitions against the other teams in Division O of the Montgomery County Swim League (MCSL). There are forty individual events, four relay events, and six individual medley events. The meet scores are part of the official record used by MCSL to calculate which teams remain in their division or move up/down to another division. Swimmers are placed in their best events at A meets. Every Twinbrook Duck swimmer generally swims in A meets, while many other teams in the league are larger and have A and B teams.
A meets start at 9:00 a.m. (with warm-ups around 8:15 or 8:30 a.m.) and end around noon. We gather back at Twinbrook Pool after the meet for a parent-organized lunch and ribbon awards.
"B" Meets:
The four B meets on Wednesdays evenings are considered practice meets. These can be scheduled with any swim team in the league, but we generally try to swim B meets against teams in close divisions to keep the competition as even as possible. Swimmers cannot swim the same event at a B meet that they swim at an A meet in the same week. Every Twinbrook Duck swimmer generally swims in every B meet that they want to, usually in an event that they are working on improving, or in a new stroke.
B meets start at 6:00 p.m. (with warm-ups around 5:15 or 5:30 p.m.) and end around 8:30 p.m.
B meet pools usually have concessions for sale with dinner food available, or you can bring your own picnic. After B meets, we often meet at the McDonald's at the corner of Veirs Mill Road and Atlantic Avenue for snacks and ribbon awards.
MCSL Swim League
The Montgomery County Swim League (MCSL) is divided into fifteen divisions (A-O) with the fastest teams in Division A. Assignments to a division are based on a team's performance from the previous year.
Parent Volunteers
If everyone pitches in a little, each meet will run smoothly. Sign up to help our team! Approximately 30 adult volunteers from both the visiting and home teams are needed each week to run the Wednesday and Saturday meets. Therefore, it is required that at least one member of each swimmer's family volunteer for at least one event.
---
Pre-Team Ducklings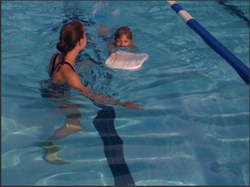 The Twinbrook Ducks welcome even the youngest swimmers! Starting at age four, if a child can make it across the pool with a kickboard unassisted, they can "compete" in the pre-team races at the beginning of some meets. The kickboard events build confidence in young swimmers and help them prepare for regular meets as they learn basics of strokes, gain strength in the water, and make lifelong friends.
Pre-Team lessons are Monday through Friday from 6-6:30 p.m. and will run from Monday, June 5th, through the week of July 12th. The lessons are designed to help younger kids (generally 4 to 8 years old) get comfortable swimming across the pool, eventually using a stroke. Kickboards and other props are used to build confidence and skill.
Our hope is for pre-team swimmers to join us at B meets (Wednesday evenings on 6/21, 6/28, 7/5, and 7/12) at the halftime kickboard race to experience the thrill of swimming at a meet. Some pre-team swimmers advance quickly and feel confident to swim in a relay or the 25-meter freestyle at a meet later in the season.
For more information, contact swimteam@twinbrookpool.org. To register your child, click here!
---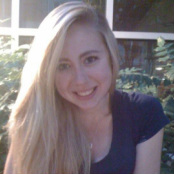 Meet Twinbrook Ducks Pre-Team Coach Leah Herzfeld!
Welcome to Pre-Team with the Twinbrook Ducks! As we start the season, we will review breathing, kicking, and arm stroke technique with a fun and safe approach. The new swimmers will get to know each other, and me! My name is Leah Herzfeld, and I have been a swimmer my entire life—would you believe that my family has belonged to this pool since it was built? Here are a few things about me:
Senior at the University of Maryland majoring in Psychology
Swim Coach certification; lifeguard certification; first aid certification
Former City of Rockville Pools swimming instructor for infancy through elderly
Swam for the Ducks until age 17!
For full details on the dates and locations of all the swim team events, including pep rallies and the Wednesday B-Meets, please visit the Ducks Swimtopia site!