Swimming Lessons at the Twinbrook Pool!
​
There are multiple swim lesson options at our pool.
Pre-team Ducklings. Our swim team, the Ducks, runs a class for young kids three times a week starting mid-June for four weeks. The goal is to develop kids into swimmers to join the swimming team. See our Swim Team site or contact swimteam@twinbrookpool.org.
Private or semi-private lessons are offered during TSP business hours. The lessons will be taught by TSP staff during open business hours. To schedule a lesson, please complete the Private Lessons Request Form and return it to the pool manager either in person or via email to manager@twinbrookpool.org. Please provide at least two days between submitting a form and the requested lesson date. Lessons are open to both Members and Non-Members. Current members will receive a $5.00 discount per lesson. Children who are not potty trained must wear a swim diaper anytime they are in the water. Group Lessons coming soon.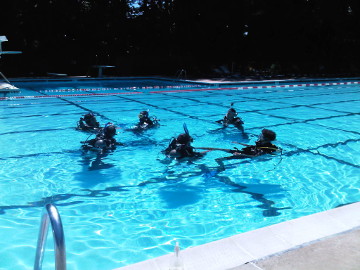 ​Scuba diving lessons at the Twinbrook Pool.
SWIM LESSON PRICING
(Discounts offered only when multiple children are within the same family)
1 child: $25
2 children: $20 each
3 children: $15 each
4+ children: $10 each